Well-Being
---
Simple Vegetable Packed Crustless Quiche with Feta
By Rachel Dickens on
4 Main Servings or 6 Side Servings
Prep Time: 15 Min ; Cook Time: 30 Min; Ready In: 45 Min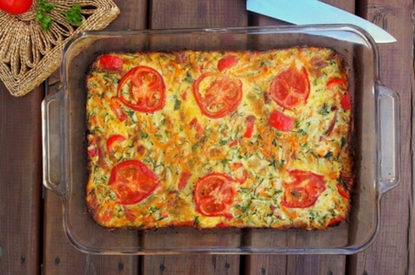 Ingredients
2 cups grated zucchini, about 1 medium zucchini
2 cups grated carrot, about 2 medium carrots
2 loose cups shredded kale or chard
1 cup mixed fresh herbs (I used cilantro and basil)
3 green onions, thinly sliced
1 large tomato, sliced into 8 rounds
8 free range eggs
1/2 cup organic milk or unsweetened milk alternative
1/2 cup grated organic aged cheddar cheese (or another strong cheese)
1/2 cup organic crumbled feta
1 tbsp virgin olive oil or organic butter
1/8 tsp sea salt
ground black pepper
To Serve
A fresh summer salad
Onion chutney (optional)
Instructions
Preheat the oven to 350 degrees Fahrenheit.
Take the grated zucchini, one handful at a time and gently squeeze the water out of it over the sink. This prevents the quiche from getting soggy. Add the zucchini to a bowl with all of the other vegetables except the tomato. Add the herbs and both of the cheeses. Mix to combined.
In a separate bowl, crack the eggs and gently whisk. Add the milk or milk alternative and season with salt and pepper. Mix well.
Add the egg mixture to the vegetable mixture and stir to combine.
Grease a large rectangle baking dish and prepare it with some oil or butter. Add in the quiche mixture. Place the sliced tomatoes on the top decoratively.
Cook for about 30 minutes. If your baking dish is a bit deeper, you may need to cook it a little longer. You will know when it is finished when the top starts to look golden, and the quiche does not jiggle when you shake it. Once finished, let it cool slightly before serving. Enjoy with some tasty chutney or mustard and a nice side of fresh summer salad.
Make it dairy free: Use vegan cheese
Add more depth of flavour: Saute the onion in 1 tbsp virgin olive oil or butter for 3 minutes, then add the garlic for 30 more seconds before adding to the remaining ingredients
Add a twist: Add 1/2 cup chopped sun-dried tomatoes
You can visit Rachel's website here.